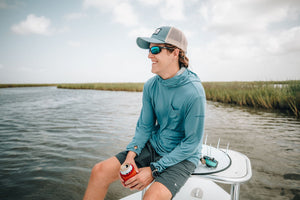 Bamboo is Changing the Game for Men's Fishing Shirts
The search for the perfect men's fishing shirt is finally over.
Here at Navillus, we're doing things differently. Our ultra-soft 95% bamboo men's fishing shirts and hoodies are perfect for long days on the water.
Made from a blend of 95% premium bamboo and 5% spandex, Navillus men's fishing shirts and hoodies not only are the most comfortable on the market, they are moisture wicking, odor resistant, highly breathable, and offer superior sun protection (40+ UPF).
In addition to these benefits, bamboo is highly sustainable. Unlike other more traditional fabrics, which are generally made from unsustainable materials and treated with chemical finishes to give them performance characteristics, bamboo is produced from natural fibers. Bamboo is a true super fabric.
  

As our world has become busier, so has fishing apparel.

We designed our shirts and hoodies with simplicity. Our designs are inspired to provide customers with versatility. Not only can you wear Navillus men's fishing shirts and hoodies for long days of fishing, but they are perfect for other casual outdoor adventures or simply hanging out.

Our bamboo material and simplistically designed products are not the only thing that separates Navillus.
To make matters better for our customers, we offer our fishing shirts and hoodies at a significant discount to competitors. Our business model eliminates any middle-man markup and allows us to sell our products to you for less while maintaining higher quality products. We provide superior products at a value that is unmatched.
Don't believe us? Check out the raving 5 star reviews from our customers.
So do yourself a favor and grab one of our premium, ultra-soft bamboo men's fishing shirts or hoodies today!
---