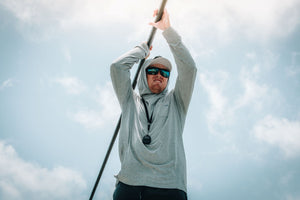 The Benefits of Sun Protective Clothing
The Benefits of Sun Protective Clothing
Whether in Key West or the Northeast, every angler should have a strategy to protect their skin from the sun's harmful rays.
Choosing the right sun protective clothing is key to avoiding sun burns. While sunscreen is an effective weapon against sun damage, sun protective clothing can give you reliable protection for the long days on the water.
ALL DAY PROTECTION
EASE OF USE
ALWAYS WITH YOU
COMFORT
UV PROTECTION FOR THE ENTIRE LIFE OF THE SHIRT
ALL DAY PROTECTION
As every angler knows, fishing can get messy.
Frequent contact with water through splashing waves, unruly fish, sweating, and the occasional rain are not uncommon. Each of these will ultimately rinse off any sunscreen that has been applied and will force you to re-apply.
Even the best, water-resistant sunscreens will rinse off during those grueling days on the water. Sunscreen is a great source of sun protection for short term fishing trips, like heading down to the dock or taking a quick trip to your honey hole, however, you are best suited to use sun shirts or sun hoodies if you want long term protection.
Well-designed sun protection clothing will provide all day sun protection whether you stay completely dry or are soaked in water the entire day.
EASE OF USE
It's an easy as getting dressed in the morning.
When you wear lightweight, sun protective clothing you are choosing the easiest, most comfortable way to get sun protection. Sun shirts or sun hoodies provide sun cover over your body and do not require the use of sunscreen.
Sunscreen, however, requires frequent application, leaves an oily feel, and can take up valuable space in your tackle box or boat. Not only is sunscreen a nuisance to re-apply, it causes harm to your rods, reels, and boat with its chemicals.
ALWAYS WITH YOU
Unless you're the type of angler that prefers to go shirtless with a beer in one hand, then it is easy to throw on your lightweight, sun protective shirt before you head out in the morning.
It stays with you the entire day, and if you're wearing Navillus (😉), you're staying comfortable and well protected from the sun all day long. There is nothing more common than running out of the house before a big trip, or applying one layer of sunscreen, and then realizing that the sunscreen is completely empty.
You do not want to be stuck on the water without sun protective clothing or sunscreen.
COMFORT
If you are like most people, the act of applying sunscreen is one of the most annoying things about sunny, summer days.
No one likes to take a break from fishing every hour to re-apply oily sunscreen.
Choosing a comfortable sun shirt or sun hoodie provides all day comfort without the nuisance of constant sunscreen application. A comfortable sun shirt can be the difference between you wanting to stay out on the water all day or making the trip back home.
UV PROTECTION FOR THE ENTIRE LIFE OF THE SHIRT
Good sun protective clothing will provide sun protection throughout the life of the sun shirt or sun hoodie.
Not only can you wear your go-to sun shirt for life, it is very cost-effective as sunscreen can run $12+ a bottle. As you continue to wear the sun shirt, the UV or UPF sun protection does not wear off and the effectiveness remains.
These are the five key benefits of sun protective clothing.
However, sunscreen is still an important part of protecting your skin. Sunscreen can be used to supplement sun protective clothing, especially in areas like your face where clothing does not adequately protect.
NAVILLUS SUN PROTECTIVE FISHING APPAREL
Navillus bamboo shirts and hoodies provide UPF 35+ sun protection and offer superior comfort through our 95% bamboo fabric. Navillus is the best option where it comes to sun protective clothing!
---