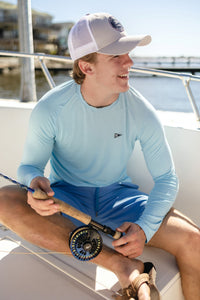 What should I wear if I'm going fishing?
Fishing can be challenging, so it is important to control the things in your control.
The convergence of skill and luck is delicate, as a poorly presented fly or sharp movement on the boat could result in spooked fish and a lost opportunity.
Spending all day on the flats and then losing your chance at a fish can be frustrating. So what can you control? You certainly can't control the weather, but you can control your clothing.
Your fishing clothing not only increases your chances at fish but also protects you from the elements. We make the choice of clothing easy.
Navillus bamboo sun hoodies and sun shirts provide lasting protection and superior comfort.
Tops
When choosing your top, the key is to find something that provides adequate sun protection.
Sun protective clothing is crucial when you will be spending long days on the water. On the water, the sun will be beating down on you so you must manage it. Finding the right sun hoodie or sun shirt is important, as they do not all provide adequate sun protection. Nothing will ruin your trip more than getting sunburnt on the first day and then having to spend the rest of the week in pain.
Whatever you choose, make sure it is lightweight and long sleeve. A lightweight sun hoodie is ideal, as the hood will provide optimal sun protection, but a lightweight long sleeve fishing shirt works too. You do not want to be re-applying sunscreen all trip.
Navillus' lightweight sun hoodies and sun shirts are a perfect choice as they are comfortable, breathable, and most importantly provide UPF 40+ sun protection.
Bottoms
It's tempting to just pack a pair of Navillus Sabalo Fishing Shorts to wear every day of the trip, but it makes sense to pack some pants as well.
It's likely going to be hot and sunny, and you want to make sure your legs are protected. It will not take long for your legs to get sun exposure, especially when standing on the bow.
Shorts are typically more comfortable, however, they require continuous re-application of sunscreen, especially if you plan on getting in the water.
Navillus Sabalo Fishing Shorts provide maximum sun protection for the thigh, but a sun protective pant should be considered for long trips on the water.
Neck Gaiter / Sun Mask
A neck gaiter / sun mask with sun protection is a crucial item to pack in the bag.
A sun mask keeps your neck and face protected from the sun.
Navillus offers premium, UPF 40+ neck gaiters made from ultra-soft 95% bamboo. Not only do our gaiters provide sun protection, they can be worn for full days on the water without getting too hot or feeling like plastic.
Hat
This may seem obvious, but don't forgot your hat!
A good fishing cap will keep the sun off your face and will be comfortable to wear for hours on end. Make sure to grab a hat and wear it the entire trip. Your forehead will thank you later!
These are just a few of the many essentials that you need as you plan for your next trip. If you are looking for new sun protective clothing, Navillus has you covered.
Check out our full range of bamboo sun hoodies, bamboo long sleeve sun shirts, fishing shorts, and more that will keep you cool, comfortable, and protected!
---