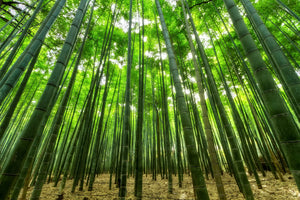 Benefits of Bamboo Clothing
Bamboo is the true super fabric. Not only does bamboo provide unmatched comfort through it's buttery soft feel, the fabric is highly sustainable. 
If you have not read our full page on the benefits of bamboo clothing, you can read it here.
Key Benefits to Bamboo Clothing
Highly Sustainable
Ultra-Comfortable
Moisture Wicking
Odor Resistant
Sun Protective
Breathable
Hypoallergenic
1. Highly Sustainable:
Unlike other fabrics, which are generally made from unsustainable materials and treated with chemical finishes to give them performance characteristics, bamboo is produced from natural fibers.
The bamboo tree is the fastest growing tree in the world, growing up to three feet in height every 24 hours.
Bamboo trees are very beneficial for the environment, as each tree releases 30% more oxygen into the atmosphere and absorbs more carbon dioxide compared to other plants. 
Because of these features, bamboo greatly decreases the amount of greenhouse gases. In addition, bamboo can be harvested and grown in the same area indefinitely, so farmers do not need to clear land to replant new shoots of bamboo.
Due to its naturally beneficial fibers, bamboo fabric does not have to be treated with chemical treatments to get its performance benefits. This makes bamboo fabric manufacturing much more sustainable as there is no release of harmful chemicals into water systems and ultimately the environment.
The water used during the manufacturing can therefore be recycled. In fact, about 99% of all wastewater from bamboo fabric factories can be recovered, treated, and reused in a closed-loop process that helps keep treated water out of the ecosystem.
2. Ultra Comfortable
Bamboo is the softest, most comfortable fabric on the market today. Say goodbye to cotton!
3. Moisture Wicking
Bamboo is naturally moisture wicking as bamboo plants typically grow in warm, humid climates. This performance fabric does not have any chemicals added.
4. Odor Resistant
Naturally odor resistant qualities repel harmful chemicals and mask against body odors.
5. Sun Protective
Bamboo has a UPF rating of 40+, providing consistently strong protection against harmful UV rays.
6. Breathable
More breathable than cotton and synthetic fabrics, ensuring you stay cool for hours on the water.
7. Hypoallergenic
Naturally hypoallergenic as bamboo is not treated with chemical finishes to obtain any of its great performance qualities.
Make the Move to Bamboo!
Bamboo clothing is ultra-soft, comfortable, and provides numerous performance attributes. The positive benefits are endless. But not only is bamboo good for you, it's good for our planet and good for our future. By making the move to bamboo today, you will help do your part in ditching unsustainable, chemical ridden fabrics and join the shift towards sustainability. It starts with one person! 
---