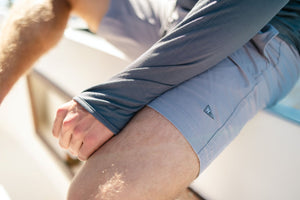 How to find the best men's fishing shorts
Are you in the market for a new pair of men's fishing shorts? In this article, we will dive into the key things to consider when looking for your new go-to shorts for the water.
Finding a good, comfortable pair of fishing shorts is essential if you want to enjoy a long day on the water. There are a lot of options on the market today, so it is important that you find the best pair out there. Whatever your style, there are certain qualities to be aware of when choosing a pair of men's fishing shorts.
Here are a few things to consider, just to name a few: style, comfort, material, quick dry, UV / UPF sun protection, functionality. Keep reading to learn more about the qualities you need to be aware of while shopping for fishing shorts.
Key Qualities of a Good Pair of Fishing Shorts
Comfort
UV / UPF Sun Protection
Pockets
Functionality
Comfort
Comfort is key, especially during those all day trips on the water. But finding comfort is not always as easy as it looks. How can you tell whether a pair of fishing shorts will be comfortable before you purchase them?
One indicator is fabric. A soft performance fabric will undoubtedly produce a more comfortable pair of shorts.
You want your shorts to be breathable, moisture wicking, quick drying, and adaptable. The fabric used to produce the shorts will drive a lot of these attributes. There are many performance fabrics to choose, however, only some provide true benefits and comfort without side effects.
Here are Navillus, we use bamboo fabric as it provides all the necessary performance attributes yet does not have the detrimental impact on the environment like other performance fabrics as bamboo comes from a natural source.
UV / UPF Sun Protection
Protecting yourself from the sun is critical. Not only does it prevent harmful long term effects like skin cancer, it also is more convenient as you do not have to worry about re-applying sun screen all day. Most fishing shorts today provide UPF 50+, so it is important to make sure whichever pair you buy has adequate sun protection.
Sun protective characteristics sometimes gets overlooked so keep it at the top of mind!
Pockets
Whether you are on a boat, on the beach, or fishing at a pier, you need good pockets on your shorts. First, look for the standard pocket on each side of the shorts and at least one pocket in the back. The back pocket is great for storing your phone, pliers, or other fishing essentials.
Also, look for pockets that have a zipper. Many fishing shorts in the market today do not have a pocket with a secure zipper. Things can get treacherous on the water, so it is important to keep anything valuable in a pocket with a secure zipper. Some men's fishing shorts today have "reinforced" or extra lined shorts that fits a tool like a pliers. These pockets are an added "plus" however, they are not typically on more athletic, performance type shorts as pliers can rip through softer fabrics.
Functionality
Versatility and functionality and key attributes in fishing shorts. You want to find a pair of shorts that can not only be used for fishing, but also perform well in other situations.
Many of the features we listed above play into the functionality of shorts, like its fabric and pockets, and contribute to how functional the shorts actually are. We believe that consumers should be able to wear fishing shorts even if they are not actually fishing. That's why we designed shorts that are also great for working out, walking the beach, and even using as a swimsuit.
The waistband plays a role in functionality. There are a lot of different waistband options as everybody has different tastes and preferences.
The athletic / board short type shorts with a stretch waistband and front ties typically provide the most comfort.
Navillus Sabalo Men's Fishing Shorts
Now that you know what to look for, let's dive into why Navillus Sabalo Fishing Shorts are the best choice for you. First, our Sabalo shorts are built with an ultra-soft bamboo liner. This liner provides ultimate comfort and has performance features such as moisture wicking, odor resistant, breathability, and more.
Plus, the Sabalo shorts provide 50+ UPF sun protection and have numerous pockets including a zipper pocket on the back and an iPhone pocket on the inside. The elastic waistband with draw strings allows you to secure the perfect fit!
Experience why the Sabalo Men's Fishing Shorts have raving reviews today and purchase them here.
---